0
Hello, Bean!
Posted by galfromaway , 09 August 2012 · 1,711 views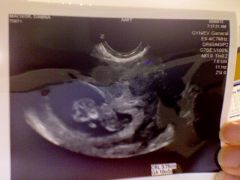 Went in for an ultrasound today. I was getting myself a little worked up - are things on track? Is Bean ok? Why am I not feeling or going through the same things other women are? So thankfully the clinic was able to fit us in before lunchtime.
Bean is measuring right on track.
A big relief.

Tomorrow, bloodwork. 23rd, next ultrasound, and then appointment with our doctor on the 27th.
We're doing ok!!
EDIT: Had to get a ruler out! Bean is 3.75 cm!!